The Bali 1928 Project includes a series of film screenings, seminars, exhibitions, panel discussions, and multimedia presentations. These usually focus not only on the research process and results, but also on broader issues involved with cultural repatriation, and the remarkable things that can happen as the old ways rejoin the new.
Please see the Contacts page if you have questions or are interested in creating or hosting a Bali 1928 event for your campus or organization.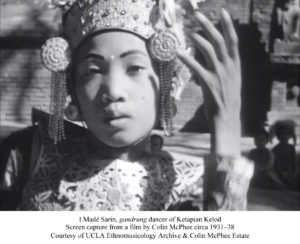 Coming soon in Bali
June–September 2017 – Library of Congress to Bali Repatriation Project – public screenings, seminars and presentations of the films and photographs by Gregory Bateson and Jane Belo made in Bali between 1931 and 1939 along with corresponding content and contextualization from the field notes of Margaret Mead.
Also, Sinema Bali 1928 film screenings and seminars are taking place at Udayana University and on tour to cultural organizations and village and banjar performance clubs throughout Bali.
2015-2016 in Bali and the U.S.
November 2016 – Society for Ethnomusicology panel chaired by Edward Herbst: "Bali 1928 Repatriation Project: Collaborative Strategies, Challenges, Accomplishments and Future Initiatives." Washington, D.C., co-hosted by Smithsonian Folkways Recordings & George Washington University.
October 2016 – Margaret Mead Film Festival at the American Museum of Natural History, New York City: presentation on "Bali 1928: Gender, Cross-dressing and Androgyny in Archival Balinese Film" by Edward Herbst for the 40th anniversary of the festival. http://www.amnh.org/explore/margaret-mead-film-festival/dialogues
October 2016 – Remarks by Edward Herbst at the opening of the exhibition "The Storytelling Art of Bali" at the Consulate of Indonesia, New York City.
August 2016 – Official opening of the multimedia Bali 1928 Archive at STIKOM Bali (IT Institute), Denpasar, Bali, Indonesia.
May 2016 – Undiksha University, Singaraja, Bali: Sinema Bali 1928 film screening and seminar.
April 2016 – Indonesian Institute of Arts (ISI-Denpasar): Sinema Bali 1928 film screening and seminar.
April 2016 – Sanggar Balerung Mandera Srinertya Waditra, Peliatan, Bali: Sinema Bali 1928 film screening with discussion.
March 2016 – Bali 1928 photo exhibition at Rio Helmi Gallery, Ubud, Bali, "Photographic Images from the Beginnings of Bali's Modern History," including video installation & talks by Edward Herbst, Rio Helmi and Marlowe Bandem.
July 12, 2015 – Bentara Budaya Arts Center, Bali – seminar, concert and public launch of the five-volume CD/DVD sets included Anthony Seeger, founding director of Smithsonian Folkways and director emeritus of UCLA's Ethnomusicology Archive.
February 2015 – Indonesian Institute of Arts (ISI-Denpasar): "Research Methodologies for Reviving the Diversity of Bali's Arts and Culture."
2012-2015 – Multimedia lecture-presentations on the Bali 1928 Repatriation Project: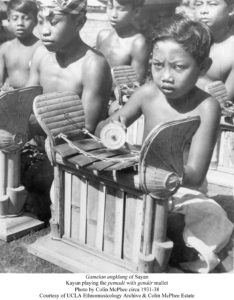 University of California, Los Angeles, Herb Alpert School of Music
Smithsonian Freer Museum, "Performing Indonesia Conference & Festival," Washington, D.C.
University of Amsterdam "Conference on Cultural Musicology," Holland
"International Festival & Conference for North Balinese Culture," Singaraja, Bali
Stanford University's "Reactions to the Record Symposium"
UCLA Center for Southeast Asian Studies
Massachusetts Institute of Technology
University of California, Riverside
University of California, Berkeley
Pomona College
Wesleyan University
Bates College
Eastman School of Music