Research and Translation Teams
As Bali 1928 project director, principal researcher and writer, Edward Herbst is also responsible for translation of songs and texts to English.
As Bali 1928 project manager, Marlowe Bandem (STIKOM Bali) is responsible for IT development, public and institutional outreach and dissemination, as well as public speaking in Indonesia and beyond.
Balinese performer-scholars who are faculty members of the Indonesian Institute of Arts (ISI-Bali) and Udayana University – as well as traditional village performers – have been key partners throughout the research and translation process.
The core research team includes Dr. I Ketut Kodi (from the village of Singapadu), Ni Ketut Suryatini (from Kayumas Kaja), Ni Ketut Arini (Banjar Lebah, Denpasar), Komang Ongki (Batuan), I Madé Arnawa (Tunjuk), Dr. Wayan Dibia (Singapadu), Dr. Nyoman Astita (Kaliungu Kelod), and I Wayan Suweca (Kayumas Kaja).
Translating song and dramatic texts from Kawi (Old Javanese) and Balinese languages to Indonesian has also been a team effort with key participants: Dr. Nyoman Suarka (Cekik Berembeng, Tabanan), I Nengah Medera, Ketut Kodi, Ida I Déwa Gdé Catra (Sideman/Amlapura), Ni Nyoman Candri (of Singapadu), Dr. Nyoman Catra (Mengwi), Ni Desak Made Suarti Laksmi (Manggis, Karangasem) and Edward Herbst.
Translating Edward Herbst's extensive notes from English to Indonesian was done by Marlowe Bandem (Singapadu) and I Wayan Juniartha (Denpasar).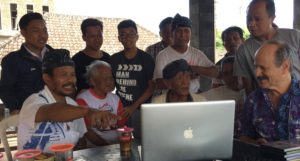 Project Advisers
I Made Bandem – Former Rector, Indonesian Institute of Arts (ISI-Bali) and former Rector of ISI-Yogyakarta. Senior Project Adviser for Bali 1928 publications in Indonesia
I Wayan Dibia – Professor and Former Rector, Indonesian Institute of Arts (ISI-Bali)
Hildred Geertz – Professor Emerita, Department of Anthropology, Princeton University
Anthony Seeger – Founding Director of Smithsonian Folkways; Professor Emeritus and Director Emeritus, UCLA Ethnomusicology Archive
Judith Becker – Professor Emerita, Department of Musicology/Ethnomusicology, University of Michigan
David Irons – New York, NY, strategic communications adviser to the project since 2014
Marlowe Bandem – website designer