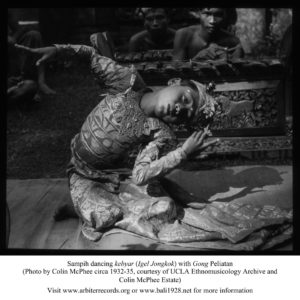 Institutional Partners
STIKOM, Denpasar, Bali – The IT college STMIK STIKOM Bali is responsible for publishing, video restoration and editing, repatriation, and dissemination of the five-volume CD/DVD sets in Indonesia. The Indonesian Project Manager is Marlowe Bandem.
Arbiter of Cultural Traditions, in New York – Allan Evans, Director, has been responsible for audio restoration of the extant 111 musical tracks recorded by Odeon and Beka in 1928 and released as shellac 78 rpm discs in 1929. Arbiter has published these recordings as five CD volumes as well as an anthology.
UCLA – The University of California, Los Angeles Ethnomusicology Archive and Colin McPhee Collection has been a partner throughout the project, sharing its holdings that include half the 1928 Odeon-Beka recordings as well as invaluable films and photographs made by Colin McPhee between 1931 and 1938.
Library of Congress, Washington, D.C. is providing the raw film footage, photographs and field notes of Margaret Mead, Gregory Bateson, and Jane Belo. This initiative is made possible by the Bateson Idea Group and Nora Bateson having granted permission to Edward Herbst and STIKOM Bali for the cultural repatriation of Gregory Bateson's film footage and photographs from Bali (1936–39). Mary Catherine Bateson's permission extends to the films and photographs of Jane Belo (1931–1939) as well as the field notes of Margaret Mead and Jane Belo. Initial project funding was provided in 2017 by the Robert Lemelson Foundation and Mildred Weissman.
The Henry Luce Foundation has awarded a three-year grant (2018-2021) through the Asian Cultural Council to support the Bali 1928 and Library of Congress-to-Bali Repatriation Project. Additional funding for this initiative has been provided by Mildred Weissman, the Robert Lemelson Foundation, and the Wenner-Gren Foundation for Anthropological Research.
The Research Foundation of the City University of New York and Hunter College Research Administration have administered and facilitated major funding opportunities from The Andrew W. Mellon Foundation and The Henry Luce Foundation that have furthered the Bali 1928 Project.
Dansmuseet, Rolf de Maré – Museum of Movement, Stockholm, Sweden
Filmoteca, Universidad Nacional Autonoma de Mexico (UNAM), under the aegis of Rocio Sagaon Vinaver and Djahel Vinaver, executors of the Miguel Covarrubias Collection.